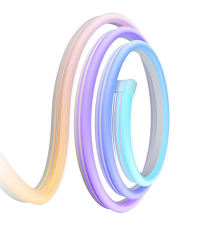 LED neon flex is a new type of led linear light strip product with the aesthetic feeling of traditional neon light.
The LED neon flex emits light continuously and evenly, the light is soft, and there is no dazzling feeling of a single lamp bead.
The LED neon flex strip uses the same light beads as the led ordinary light strip inside.
The exterior of the LED neon flex strip uses a silicone-like material that is different from ordinary PVC.
It is the shell of this kind of silicone material that makes the light strip produce the visual effect of neon lights.
At present, more and more manufacturers begin to produce LED neon flex strips as a main product to Produce.
The price of LED neon flex strips is also more and more suitable for consumers.